One Click Away From NYC Rent Stabilized Apartments

---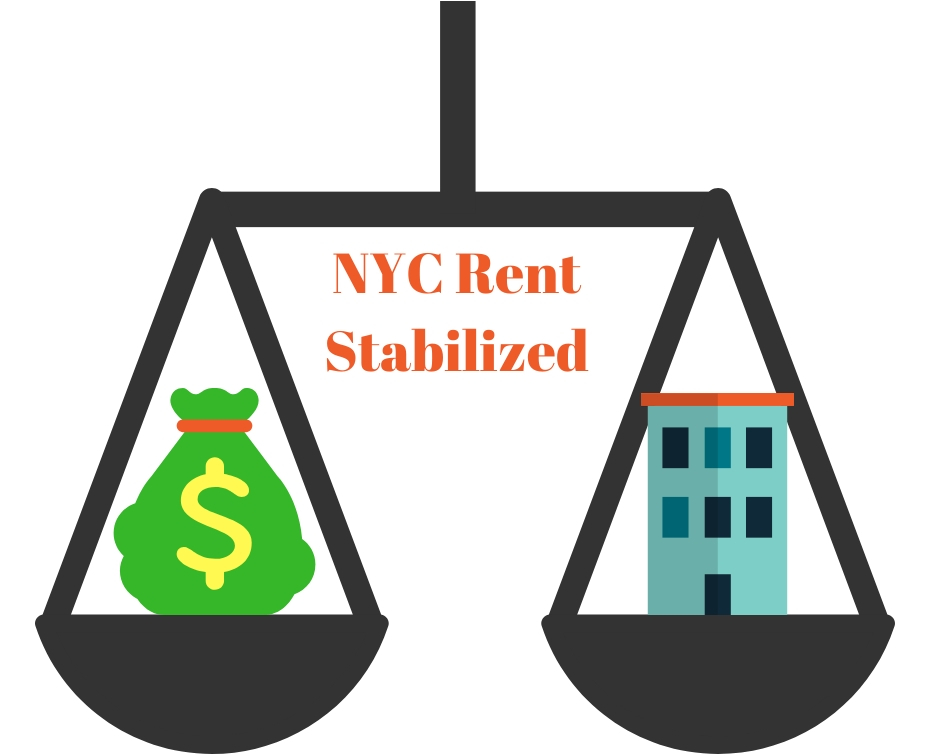 Quick Recap On NYC Rent Stabilized Apartments
When the lease for a NYC rent stabilized apartment is up, the rental increase is regulated and you are guaranteed to get a renewal lease.  After the initial approval of the application, the landlord of the apartment is basically stuck with you forever because they have no recourse in getting you out of the apartment barring some illegal activity or lack of payment that would void the lease.  The leases are almost as binding as a marriage.  As a renter tenant, you would have to opt out, decide not to renew and leave on your own.  This is a hugely comforting factor when it comes to renting an apartment to know that you are guaranteed a home.  This is vastly different than market rate apartments where the landlord can jack up the rent on you and even decide not to renew your lease at their discretion.
Debunking Some NYC Rent Stabilized Apartment Myths
A NYC rent stabilized apartment does NOT equate to cheaper rent. Many people assume that because an apartment is rent stabilized, it means the apartment is going to be lower in price or 'cheap' relative to the market. When in fact, the starting rent for NYC rent stabilized apartments are often quite close to market rate apartments in the neighborhood and not necessarily cheaper at all.  The benefits and the value add of the rent stabilized apartment are mainly the limitations in price increases as well as lease renewals which over a long period of time, say 5-10 years in the same apartment, cumulatively may add up to tens of thousands of dollars in rent money savings.
Why do people assume Rent Stabilized apartments are cheap?  It's probably because the term is similar to 'Rent Controlled' apartments where monthly rent is insanely low.  Today, it is safe to say that rent controlled apartments are an urban legend and don't exist.  Don't bother looking for one because it'll take too long.  The terminology of 'Rent Stabilized' and 'Rent Controlled' sound similar and both are combined together on the same NYC government official documented Factsheet.
What Proof Is There That Apartments Are Rent Stabilized?
Property managers/management companies who control a lot of rental buildings do advertise whether an apartment is rent stabilized right on their websites.  It's not a frequent occurrence but it happens enough to warrant keeping an eye out for them. At transparentcity, the main goal is connecting renters to no broker fee buildings that are run by management companies to save on the broker fee but we will also track if an apartment is rent stabilized to further benefit the renter.   Here are 3 example property managers who place notes on their websites advertising rent stabilized apartments which we use as proof before tracking them as rent stabilized on transparentcity.  Not only are these apartments rent stabilized but they are also no broker fee apartment buildings meaning if you go directly to the property manager, you are able to score a rent stabilized apartment AND pay no broker fees!  Save yourself a few thousand dollars in fees AND lock in very minimal rent increases year over year!  What stands out is the fact that the rent for each of these apartments are in fact at market rates.  As mentioned before, rent stabilized apartments are by no means 'cheap'.
K&R Realty – Go No Fee – is known to have many rent stabilized apartments under management and frequently advertises them on their website.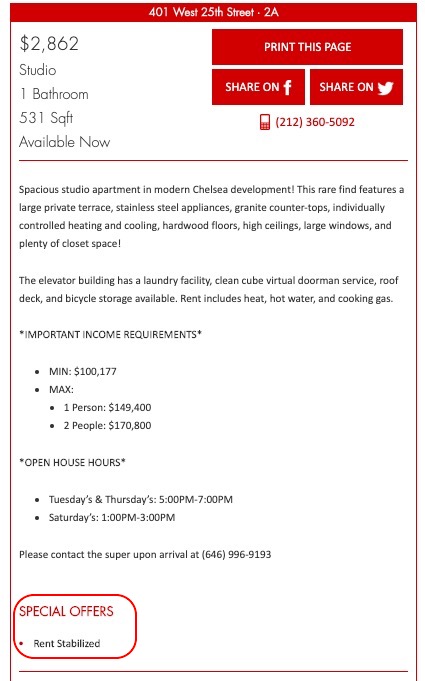 Glenwood Management – is known to have a few scattered rent stabilized apartments here and there within their luxury buildings.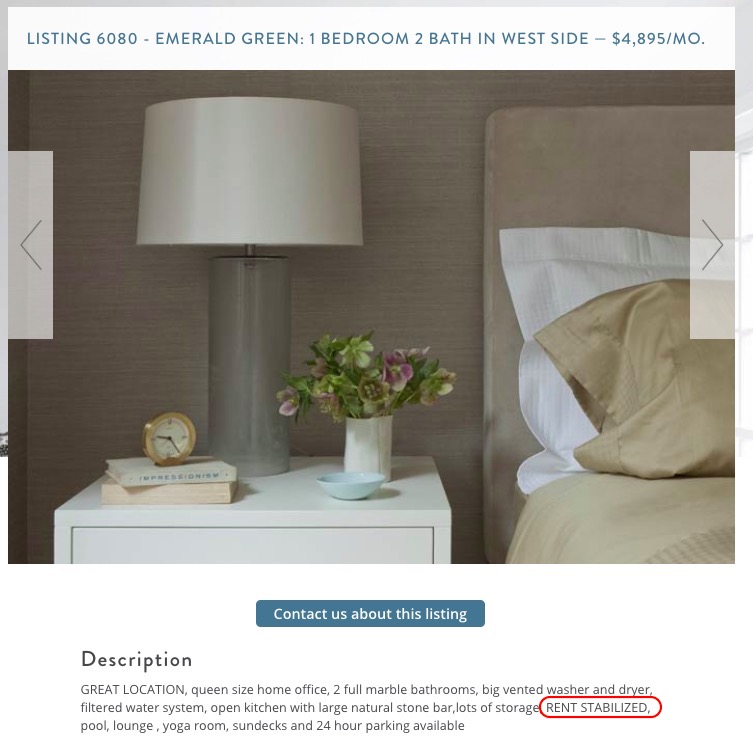 66 Rockwell – is a building managed by Dermot where the ENTIRE building is rent stabilized.  A true rarity.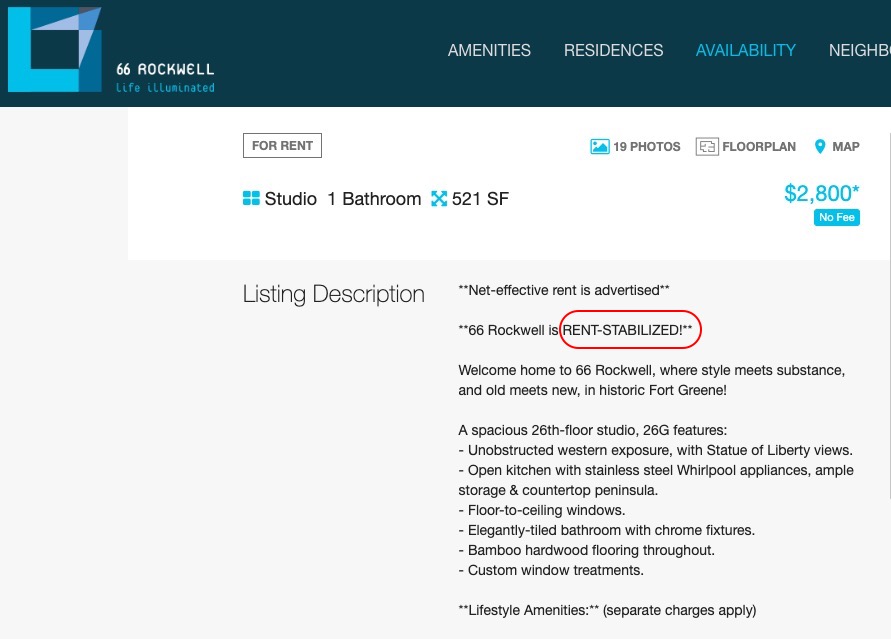 How Can You Easily Find Rent Stabilized AND No Broker Fee Apartments On Websites?
On transparentcity, there is a filter for 'Rent Stabilized' that will filter out the no broker fee buildings that have available rent stabilized apartments for rent at any given time.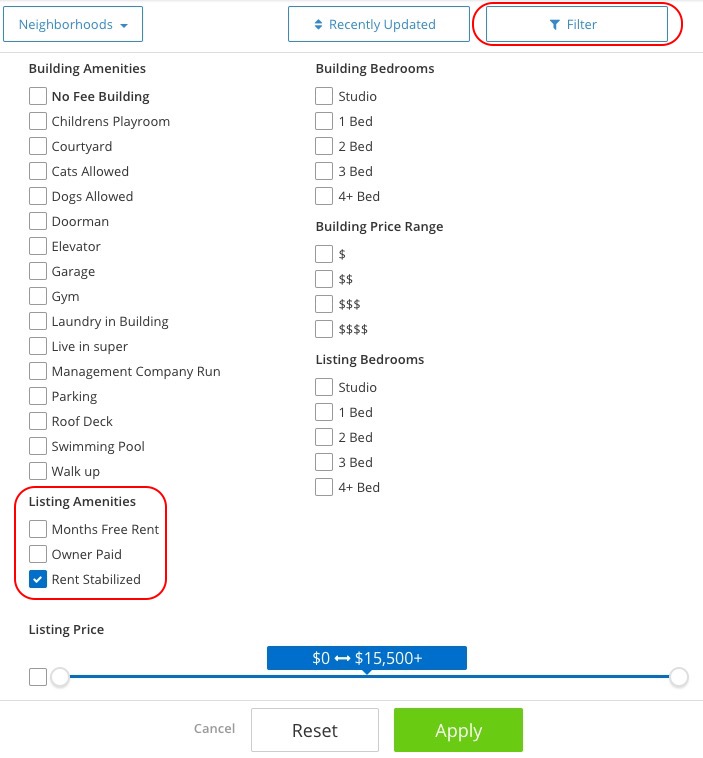 Fortunately, a handful of the popular NYC rental apartment aggregate websites such as Streeteasy, Renthop and Zumper all have a nice feature function that allows renters to filter through the descriptions of their listings where posters are writing in the description if the apartment is rent stabilized.  All you need to do is filter based on 'No Fee' AND the enter in a description of 'Stabilize' which will give you some results to browse through.  However when browsing through the results, make sure to try and differentiate whether the poster is the property manager or a broker.  The 'No Fee' filter isn't necessarily accurate if a broker is behind the post because there may be extra incentives the property manager would offer to renters who go directly to them instead of through a broker.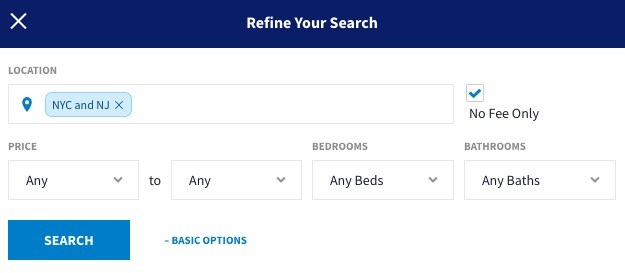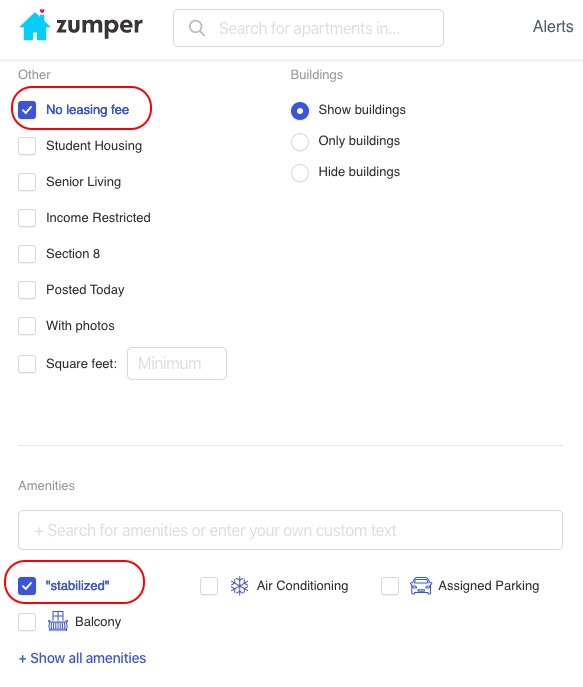 ---
---
Be Heard at Go Home NY
Be heard! Leave your apartment, condo, and coop building reviews at Go Home NY! Know a building's managers are awful? Have the inside line on a perfect building? Anything in between? Express your voice and be heard. Leave a review at Go Home NY.